Who's funnier? McCain, Obama trade jokes over dinner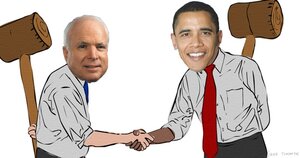 Barack Obama and John McCain appeared together yet again last night, and unlike prior meetings they both came away likable.
Astounding? Yes. In light of three panned debates (although the last one was much better) and with the public's hatred of the Congress (approval rating 13 percent), the two Senators appeared together at the fancy-schmancy Alfred E. Smith Memorial Foundation Dinner in New York.
Really funny
Only the hardest of partisans could harbor ill feelings toward either of the candidates during the event. McCain and Obama were funny. Really funny. And they even appeared to like each other.
In a sign of the approaching apocalypse, Bill Maher even conceded that McCain was funny.
McCain monologue
Up to bat first for the uber-wealthy, white-tuxedoed crowd was John McCain. And the first part of his opening line must have thrilled New York Times columnist Bill Kristol, who has been advocating for the wholesale firing of McCain's campaign staff.
"Events are moving fast in my campaign and yes, it's true that this morning I've dismissed my entire team of senior advisers. All of their positions will be now be held by a man named Joe the Plumber," McCain deadpanned.
---