Powell endorses Obama, says America still inspires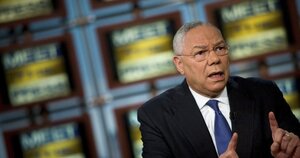 Brendan Smialowski/Meet the Press/Reuters
With all the negativity about what's wrong with America being voiced during the 2008 presidential campaign, former Secretary of State Colin Powell told viewers of NBC's Meet the Press that he believes the U.S. still inspires the rest of the world.
Powell made a highly anticipated guest appearance on the program today. Speculation had been running high that he would endorse Barack Obama for president. He did.
Obama and McCain
In announcing that he is going to vote for Obama, Powell prefaced his decision with lengthy remarks discussing the merits of both candidates.
"Both of them are distinguished Americans who are patriotic, who are dedicated to the welfare of our country," Powell said to Tom Brokaw. "Either one of them, I think, would be a good president.
So what did it come down to?
McCain
Many conservatives have said the McCain campaign, in the last two months, has relied on gimmicks, citing the selection of Sarah Palin, the suspension of the campaign to work on the economic bailout package, and the continuing negative ads linking Obama to Weather Underground co-founder Bill Ayers
---