Now Obama's got Colin Powell AND Google?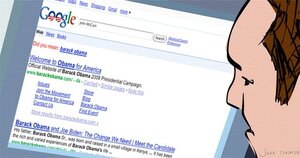 Cartoon by Jake Turcotte
This week is turning out pretty good for Barack Obama in terms of endorsements.  First, Colin Powell.  Next, Google.
Well, actually, Google the search engine didn't endorse Barack Obama.  But Google's CEO, Eric Schmidt, is going out on the stump for the Democratic nominee.
No surprise
His support shouldn't come as any surprise to political observers.  Schmidt has been an informal advisor to Obama for months and is an active supporter of Democratic candidates.
The company itself remains neutral.
"Eric is actively campaigning for Barack Obama because he believes that it is time for a change in America. In addition, his personal views on technology and energy are similar to Senator Obama's. Google of course remains neutral in the campaign," said the company's statement.
Good interview
When Obama visited Google's campus nearly a year ago, he interviewed well.  According to Google's Public Policy blog, he was the first presidential candidate to have an answer to a standard question prospective engineering employees get asked.
That question?  What is the most efficient way to sort a million 32-bit integers?
"The bubble sort would be the wrong way to go," he answered - smiling.
"Though some might view this as shameless pandering to the bucket-sorting community, others will see a bold pragmatism," joked Andrew McLaughlin, Google's Director of Public Policy and Government Affairs.
---