Did Palin really need $150k for a new wardrobe?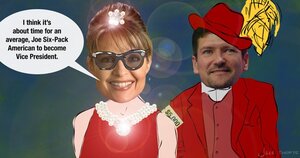 Jake Turcotte
No one is saying that Sarah Palin should be required to walk around in flip flops and a hefty bag as she campaigns over the next two weeks.
But the $150,000 price tag on to get her dudded-up for the campaign trail has left many a political observer agog at the news.
It's those guys again
The same folks that brought you the "McCain - Just how many houses do I own anyway?" mini-series back in August are at it again. Politico broke the news of the fashion spending spree yesterday.
What tipped them off?
"Politico asked the McCain campaign for comment, explicitly noting the $150,000 in expenses for department store shopping and makeup consultation that were incurred immediately after Palin's announcement. Pre-September reports do not include similar costs," writes reporter Jeanne Cummings.
The money trail
According to Politico, the Republican National Committee shelled out $150,000 for clothes and accessories for Palin and some of her family.
Neiman-Marcus hit the jackpot with over $75,000 being spent there while nearly $50,000 was dropped at Saks Fifth Avenue.
The Associated Press reports that "the RNC also spent $4,902 at Atelier, a stylish men's clothing store in New York. Other purchases included a $92 romper and matching hat with ears for Palin's baby, Trig, at Pacifier, a baby store in Minneapolis."
---