Problems with Palin? "Pure, unadulterated baloney," says McCain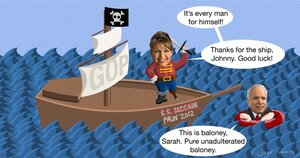 Jake Turcotte
Rumblings of an out-of-control, renegade, rogue Sarah Palin surfaced again today when an unidentified source told a CNN reporter that the Republican vice presidential nominee went off message again.
CNN reported that unnamed McCain staffers were not pleased that Palin "went off script Sunday and turned attention back to the controversy over her wardrobe."
What's she doing?
The Alaska Governor has received criticism recently for other episodes where she appeared out of joint with the campaign from holding her own press availability with reporters (her own staff tried to shut it down), disagreeing with the campaign's decision to pull out of Michigan (she offered up husband Todd to campaign there), and her voiced opposition to campaign "robo-calls" (she called the pre-recorded messages irritating).
All is well
When asked about the staff grumblings McCain told an Orlando anchorwoman everything was cool.

"That's pure baloney; we get along fine," McCain said.  "There's always a little infighting among staffs. That goes on.  It always has."
---