Joe the Plumber stiffs McCain. Pursuing country music career?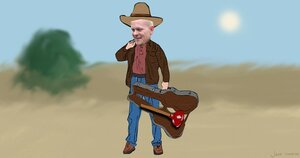 Jake Turcotte
Hey Joe, there's only five days to go before the election. Ya' think you can clear out your schedule just long enough to help someone campaign for President of the United States?
Perhaps that's what John McCain was thinking when his new best friend, Joe Wurzelbacher, aka Joe the Plumber didn't show up to a rally today in Ohio.
Left him hanging
The plumber, who became a central part of the McCain campaign after pointedly questioning Barack Obama on his tax proposal, was a no-show.
Some speculated he was fired after dispensing foreign policy advice at a rally two days ago.
Where's Joe?
"Joe's with us today," McCain said at a rally (not knowing he was stood up).
"Joe where are ya?" questioned McCain.
"Joe, I thought you were here today...," he said, trailing off.
A true politician, the Republican rebounded by yelling, "You're all Joe the Plumbers! So all of you stand up!"
Where was he?
So what the heck happened to Joe? He was home. As it turns out, he didn't know he was supposed to attend.
CNN, always resourceful, called Joe.
They report it was "news to him" that he was supposed to be there, but that he was making plans to join the Republican nominee later in the day. The network also reported Joe was "not happy" about the incident this morning.
Joe the entertainer
---