Palin on 2012: I ain't bailin', but the media is failin'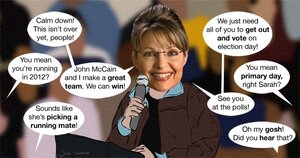 Jake Turcotte
If you really twisted and contorted it, you could say Sarah Palin kind of talked about her intentions for 2012.  But you really had to stretch it.
It's not like, in her interview with ABC's Elizabeth Vargas, she got all Bruce Willis-like and said, "If I lose on Tuesday, I'm comin' back - and comin' back with a vengeance.  Yippee-kai-yay."
Although that would be a great interview.
Spin job
But that's how it got spun.  And spun hard.
If you read the transcript, or better yet watch the video (below), you'll see that reports of Palin announcing her candidacy for 2012 just don't add up.
Transcript
ELIZABETH VARGAS: If it doesn't go your way on Tuesday ... 2012?
GOV SARAH PALIN: I'm just ... thinkin' that it's gonna go our way on Tuesday, November 4. I truly believe that the wisdom of ... of the people will be revealed on that day. As they enter that voting booth, they will understand the stark contrast between the two tickets. ...
VARGAS: But the point being that you haven't been so bruised by some of the double standard, the sexism on the campaign trail, to say, "I've had it. I'm going back to Alaska."
PALIN: Absolutely not. I think that, if I were to give up and wave a white flag of surrender against some of the political shots that we've taken, that ... that would ... bring this whole ... I'm not doin' this for naught.  No, we're going to progress and keep going forward .  It is all worth it.  And I'm not complaining about any of it."
---