Cheney to hit the campaign trail for Louisiana Republican. What?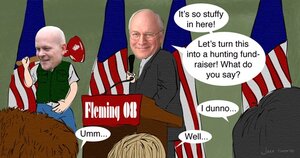 Jake Turcotte
His nationwide approval rating may be low, but that doesn't mean it's low everywhere.
Vice President Dick Cheney is back on the campaign trail. He went on the campaign trail this year? Yes. In some areas of the country, his approval ratings are above freezing. In some spots his ratings are actually balmy.
Really red states
Case in point: He headed home to Wyoming in early November to rally the GOP troops to vote for Republican candidate Cynthia Lummis and that paid off. Lummis won that race handily with a 53 - 42 percent margin.
He's hoping to bring that same magic to the fourth district of Louisiana as Republican Paul Fleming is going head-to-head against Democrat Paul Carmouche to represent Shreveport-area constituents in Congress.
Upcoming election?
Hold it. Wasn't the election two weeks ago? Correct. We have not warped back in time.
Hurricane Gustav delayed the primary election in the district, forcing it to be held on Nov. 4. The general election is slated for Dec. 6.
Where's Joe the Plumber?
---
Follow Stories Like This
Get the Monitor stories you care about delivered to your inbox.