Republican criticizes Republican for criticizing Republican (then criticizes another Republican)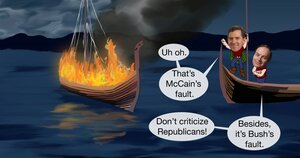 Jake Turcotte
Ronald Reagan's Eleventh Commandment? It's been thrown out the window. Stomped on. Set on fire. And now it's floating among the icebergs like a Viking funeral.
But after a severe pummeling like the one the Republicans took on Election Day, it's hard not to point fingers. Everybody's doing it. Even those who criticize those for blaming Republicans are blaming Republicans. It's a circular firing squad.
Don't criticize
Alabama Senator Richard Shelby criticized fellow Republican Senator Jim DeMint of South Carolina for criticizing Republicans. In criticizing the South Carolina Republican, the Alabama Republican criticized a certain Texas Republican whom everyone seems to be criticizing.
What's wrong with McCain?  Everything, according to DeMint, who was speaking at a conference in Myrtle Beach discussing the future of the Republican party.
---