Bush could run for U.S. Senate (Jeb - not George)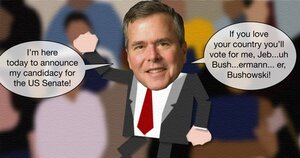 Jake Turcotte
Good news for Bush fans.  There could be many more years of Bush in Washington.
No, President George W. Bush is not planning a military coup in an attempt to serve four more years.  Rather, his brother Jeb is considering a run for the U.S. Senate.
Getting the Mel outta here
Tuesday, Florida Senator Mel Martinez announced he is not interested in running for a second six-year term.  And unless he pulls a Brett Favre and unretires, we'll take him at his word.
That means the floodgates have opened and there is an opening in the Florida congressional delegation.
Exclusive club
Now, in some states getting into the senatorial club takes forever.  Thinking of becoming a U.S. Senator in Massachusetts, Hawaii, or West Virginia?  Good luck.
Bob Byrd has represented the Mountain State longer than Barack Obama has been alive.  Senators Inouye and Kennedy began serving in the Senate while Obama was just learning to walk in Indonesia Hawaii.
Maybe, maybe not
Florida, on the other hand, presents potential Senators with more opportunity. And former Governor Bush is looking at that opportunity.
The younger Bush told Politico yesterday evening that he was interested.
"I am considering it," he said.
Endorsement
---