Ed Rendell on Janet Napolitano: Perfect because she has no life!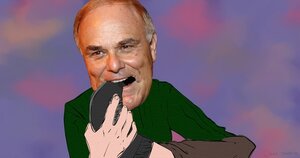 Jake Turcotte
Ever been told to get a life?  As far as Pennsylvania Governor Ed Rendell is concerned, not having a life is a great compliment.  So complimentary is it that if you don't have one you're qualified to join Barack Obama's cabinet!
Yeah, it's that open microphone thing again.  Remember when Peggy Noonan and Republican strategist Mike Murphy slammed Sarah Palin unknowingly on a live microphone?  It happened again yesterday but this time Governor Rendell was the victim.
Candid camera
If you're familiar with Rendell, you know him to be outspoken.  You know him to be candid.  He's one of those guys like Joe Biden who has a gift of gab and quite oftentimes is a refreshing politician to hear.   Even if he's spinning you he doesn't sound like he's spinning you because he's so conversational.
Too conversational yesterday it seems.
No life = perfect
He was leaning on a lectern with a microphone clearly visible having a casual conversation about President-elect Obama's decision to name Arizona Governor Janet Napolitano as Homeland Security chief.  (The video is below).
We don't know the full extent of the conversation.  We only know the part that CNN newshost Campbell Brown presented last night on her "Campbell Brown: No bias, no bull" program.
---