Obama: Economy is "going to get worse"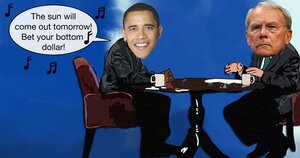 Jake Turcotte
Well, it wasn't as though Barack Obama started singing "The Sun Will Come Out Tomorrow" on "Meet the Press" this morning.  Although that would be newsworthy...
Instead he acknowledged that things are bad, yet provided some hope for the future in kind of a good news, bad news type scenario.
The good news? The economy is going to get better.
The bad news?  It hasn't cratered yet.
Meet the Press
The POTUS-in-waiting appeared on the world's longest running television show this morning with Tom Brokaw.   That's the last time we'll say that as Mr. Brokaw announced (surprising no one) that David Gregory will become the permanent replacement for "Meet the Press" starting next week.  Monitor colleague David Cook has all the details here.
In discussing our turbulent economic straits, Obama said things are bad, but he put it in perspective.
"It's important for us to remember that as tough as times are right now, they are nothing compared to what my grandparents went through or what the greatest generation went through," he said.  "At this point you already had 25, 30 percent unemployment across the country and we didn't have many of the social safety nets that emerged out of the New Deal."
Not getting better
Saying that he acknowledged Friday's bad news of over a half-million lost jobs in the past month, he predicted that it's not going to get any better in the near term.
"When you think about the structural problems that we already had in the economy before we the financial crisis, this is a big problem.  It's going to get worse," he said.
---