Obama admits he hasn't totally kicked the cigarette habit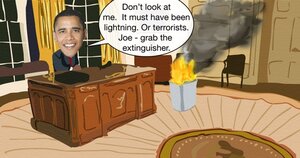 Jake Turcotte
Say what you will about Barack Obama, but one thing is for sure: He's not a quitter.
Normally, that's a good thing. You'd equate not quitting with never giving up and then all of those emotionally-laden speeches come to mind on the topic of sticking to it, never quitting, and going for your dreams.
Never give up
Like Bluto's inspiring speech imploring his brothers to keep up the fight against Dean Wormer:
"Over? Did you say 'over'? Nothing is over until we decide it is! Was it over when the Germans bombed Pearl Harbor? "
Just say no
But in this case not quitting is not that inspiring. It's Obama's cigarette habit. He hasn't entirely kicked it.
And leave it to veteran newsman Tom Brokaw to get the scoop.
Yesterday on Meet the Press, Obama was asked about the much discussed but rarely seen habit.
Brokaw accused Obama of dodging the question when asked about it last month by Barbara Walters. To which Obama stammered out a response.
---