Blagojevich no quitter - no plans to step down tomorrow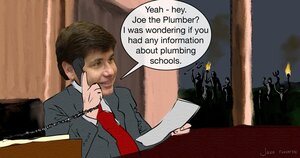 Jake Turcotte
Good news for Governor Blagojevich fans!  He's not stepping down tomorrow.
Illinois Attorney General Lisa Madigan speculated on Meet the Press this morning that the embattled Governor - who had an approval rating of four percent before the scandal - might resign tomorrow.
"We have heard that there is a possibility that tomorrow he will make an announcement where he will step aside," Madigan told new host David Gregory.
He's staying put
As it turns out, it was just a rumor.  Governor Blagojevich - who may be the first elected official in the country to record an approval rating of below zero (although mathematically impossible) - is no quitter.
"The Gov has no plans of resigning tomorrow," a spokesman emailed Bloomberg News.
When asked if Blagojevich is looking at resignation in the future, the spokesman replied, "Not that I know of."
In the meantime, a replacement pick in the U.S. Senate for President-elect Barack Obama is in limbo.
Blago can pick
Could Blagojevich still select Obama's successor?  He could.  Although Madigan doesn't believe the individual would accept the position if offered.
"Nobody in their right mind would accept an appointment to the U.S. Senate seat that this governor made," she said. "The Legislature tomorrow was also scheduled to take up a law that would basically allow a special election to fill that seat, and I think that's what the people of the state deserve and want at this point."
Let me help
Lt. Governor Pat Quinn - also a Democrat - has other ideas, however.  He told Meet the Press of his preference to select the successor, claiming the State needed proper representation in the Senate.
---