Buy a BlackBerry and get John McCain's number at no extra cost!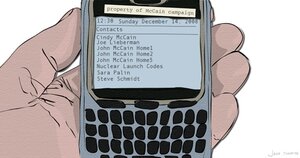 Jake Turcotte
Forget camping out at Best Buy on Black Friday.  The place to go was John McCain's headquarters on Thursday where you could buy laptops, filing cabinets, office furniture, and even BlackBerries at prices that makes Woot look like Tiffany's.
Plus, act today, and get John McCain's personal phone number.
Want some public relations advice on how to deal with the media?  Buy a BlackBerry and get email addresses to the Palin communications team!
Have a problem with your pipes and are uncertain about Israel?  Shop today and get Joe the Plumber's personal contact information!
All kidding aside
The problem is -- this isn't a joke.
The McCain campaign, as campaigns do, had to get rid of all their excess inventory.  So, they held a firesale.  And two FOX-5 reporters from Washington, DC decided to drop by.
Contact info
They lamented that "most of the good stuff was gone."  Little did they know, however, that in a world where connections are everything -- they got the Holy Grail.  Phone numbers, email addresses, and other personal contact information to some pretty powerful people.
---