Biden gets new dog - animal rights advocates not happy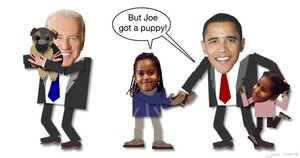 Jake Turcotte
The new puppy's cute.  But what puppy isn't?  (OK, except chihuahuas).
We're talking about Joe Biden's new dog.  Of course, all the news about presidential pets has been about Barack Obama's promise to his daughters to get a new First Dog for the White House.
But Joe and his wife Jill had a similar arrangement.  If he and Obama won in November, they'd get a dog.  And just to make sure the Veep-elect didn't forget, Jill taped up different photos of dogs in his plane during the campaign (maybe even on his harrowing helicopter experience).
Bought a dog
Not one to disappoint, Biden lived up to his promise Saturday and purchased a pooch - a three month old German Shepherd from a breeder in East Coventry, Pennsylvania (only 104 miles from his hardscrabble roots in Scranton, PA).
The name of the dog?  Doesn't have one yet.  He's letting his granddaughters have the honors.
The puppy will replace the outgoing Vice Presidential dogs Jackson and Dave who dressed as Darth Vader and Superman for Halloween in 2007.
The puppy
---