New York Governor not laughing at Saturday Night Live skit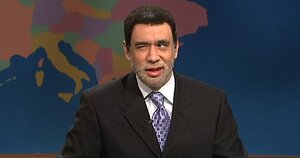 The late night comedy show that did those dead on impersonations of Sarah Palin? Funny during the campaign, but at least one high-profile politician isn't laughing now.
Seems that New York Governor David Paterson doesn't appreciate Saturday Night Live's treatment of him. Before you label him a spoilsport, this isn't like Mark Wahlberg's complaint.  He didn't like it when the writers had a doofus-like Wahlberg impersonator talking to goats.
The Governor could have a legitimate concern. His backers say the show lampooned his disability.
Too far?
Paterson is legally blind. And Fred Armisen (who also impersonates Barack Obama) portrayed him to be confused, bumbling, and not knowing which camera to look at.
Further, when Armisen held a chart -- more stereotypical humor: He held it upside down.
In the skit Armisen discussed his plans to replace Senator Hillary Clinton. The qualifications?
"Whoever is appointed senator must -- like me -- be caught totally off guard and be comically unprepared to take office," he said. "Come on, I'm a blind man who loves cocaine who was suddenly appointed governor of New York. My life is an actual plot from a Richard Pryor movie."
---