Obama wins TIME "Person of the Year" - Palin is a runner up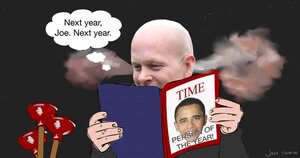 Jake Turcotte
Who didn't see this one coming?
TIME magazine announced today that Barack Obama is the "Person of the Year."
Hope
While running mate Joe Biden is angering animal rights activists everywhere, his boss is glowing in a write-up from TIME editors in the annual selection.
In naming the President-elect, TIME said Obama, " ... overcame a lack of experience, a funny name, two candidates who are political institutions, and the racial divide to become the 44th President of the United States."
Shocker?
The magazine admitted that its selection of the President-elect probably wouldn't be a big surprise.
"It's unlikely that you were surprised to see Obama's face on the cover," writes TIME's David Von Drehle. "He has come to dominate the public sphere so completely that it beggars belief to recall that half the people in America had never heard of him two years ago — that even his campaign manager, at the outset, wasn't sure Obama had what it would take to win the election."
Why Obama?
OK, so the selection didn't surprise anyone.  Still though, what was behind the pick?
"...The essence of both Obama's strength and his promise is that, according to a recent poll, a strong majority of Americans believe he will accomplish most of what he aims to do," writes Von Drehle.  "For having the confidence to sketch that kind of future in this gloomy hour and for showing the competence that makes Americans hopeful that he will pull it off, Barack Obama is Time's Person of the Year for 2008."
How do they pick?
The editors at TIME say, "The Person of the Year" is the person who most affected the news for better or worse."  They say the selection generates much debate among Time staffers but they all agree that the award is "not an honor."
---