Ohio Sen. Voinovich to retire. Could Joe the Plumber run for Senate?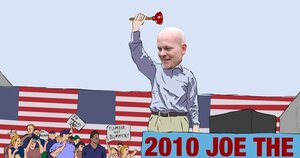 Jake Turcotte
Are there any Republican Senators who want to stick around?
Ohio Senator George Voinovich is expected to announce this afternoon that he will not seek re-election.  That makes four Republican senators who are planning to step down in 2010.
He joins Florida Senator Mel Martinez, Kansas Senator Sam Brownback, and Missouri Senator Kit Bond in saying 'no mas.'
Ch-ch-ch-changes
It would be a change of heart for the two-term senator.  The Columbus Dispatch quotes the chair of Ohio's Republican Party as saying the 40-year veteran of politics might want to spend more time with his family instead of making policy.
"He may be having second thoughts," Robert Bennett said. "I think George is looking at eight years, when he will be 81 and (his wife) Janet will be 85. He's a family man."
Who's got next?
Just like with the other announcements, the focus is not so much on the retiree but who's on deck.  Out with the old, in with the new.
Political pundits look at former Congressman Rob Portman as a likely candidate.  Another former congressman who's been all over TV since his retirement -- John Kasich -- is a possibility as is former Senator Mike DeWine.
---