Obama: You don't have to come to my inauguration!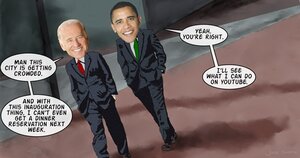 Jake Turcotte
Well, it's not as though he doesn't want you to join in on all the inaugural fun, but President-elect Obama today did warn supporters about the chilly weather and swarms of people who could make attending the event a struggle.
"You've probably heard the reports that unprecedented numbers of Americans are planning to join us in Washington," Obama said in a video address. "That will mean long lines, a tough time getting around, and most of all, a lot of walking on what could be a very cold winter day."
How cold?
So we zapped over to weather.com and checked out their trusty 10-day forecast (which is about as accurate as Shaquille O'Neal shooting free throws) and it predicts a high of 37 for the day.
Regardless, Obama made it clear that he isn't forcing you to attend.
"Fortunately, you don't have to brave the crowds and commotion in order to participate in this celebration -- because we've made this Inauguration open and accessible to communities across our nation," he said.
Texting 1, 2, 3
The president-elect goes on to explain that by texting the word "open" to 56333, you can receive frequent updates from the Obama team on inaugural plans. By the way, if it is anything like the campaign -- they aren't afraid to text all the time.
"We're kicking off inaugural week events on Sunday afternoon with a free celebration at the Lincoln Memorial that's open to the public," he said. "And to allow Americans across the country to join us, HBO will broadcast the event for free that evening."
---