Obama's new limo - ugly but it can fend off asteroids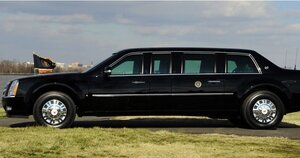 You know that Cadillac commercial that says, "When you turn your car on, does it return the favor?"
Well, you might have to be a masochist then to enjoy Barack Obama's new caddy.
It's got auto enthusiasts singing Daphne and Celeste's song "U.G.L.Y." You remember the lyrics: "U.G.L.Y., You ain't got no alibi, You ugly! You ugly! Yo mama says you ugly!"
New wheels
He's getting a new presidential limo. It's a tradition. The new president gets a new car.
The First Limo - the 2009 Cadillac Presidential Limousine - will replace President Bush's 2006 model. As you can imagine, it is completely custom built - not something you can buy in your local showroom (if it hasn't closed down yet).
"The presidential vehicle is built to precise and special specifications, undergoes extreme testing and development, and also incorporates many of the top aspects of Cadillac's 'regular' cars -- such as signature design, hand-cut-and-sewn interiors, etc.," GM spokesman Joanne Krell told CNN.
New design
---