Controversial performers to headline Youth Inaugural Ball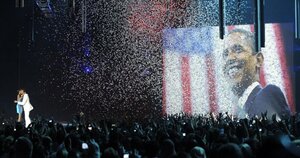 dpaphotos/newscom
Say what you will about the headliners for the Youth Inaugural Ball, but one thing is certain: they aren't afraid to speak their minds.
Obama's Presidential Inaugural Committee announced the top acts of the Youth Inaugural Ball to be aired on MTV this Tuesday evening at 10:00pm (ET).
Global ball
Kanye West, Kid Rock, and Fall Out Boy are the headliners of the event which will be broadcast on MTV's global network reaching 162 countries.
"This year, millions of young people got involved and worked to bring change to this country," said PIC Executive Director Emmett S. Beliveau. "We wanted to make sure this Inauguration recognized the important role young Americans are playing in making our nation stronger, and we're thrilled that MTV's coverage will allow viewers across the country and around the world to come together as part of the inaugural celebration."
Outspoken
Both Kanye West and Kid Rock have been outspoken about politics in the past. But in different ways.
Kanye West, the ten-time Grammy winning award winner, made big news back in September, 2005 when appearing at a benefit concert for victims of Hurricane Katrina which was nationally broadcast on NBC.
---