Tiger Woods to appear at Inauguration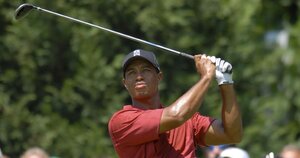 zumasportsworld/newscom
Concerned that there aren't enough celebrities at Sunday's pre-Inauguration blowout?
After all the two-hour prime-time extravaganza only boasts the likes of Bono, Bruce Springsteen, Beyonce, Denzel Washington, Tom Hanks, Sheryl Crow, Jamie Foxx, Steve Carell, Stevie Wonder, Garth Brooks, Usher, and a few more for Sunday night's big shew.
Not Happy Gilmore
How about bringing in arguably the greatest golfer in the world? Some would say the greatest athlete in the world.
No, not John Daly.
Tiger Woods will be joining the festivities on Sunday night.
---