He's not even president yet and Obama is changing YouTube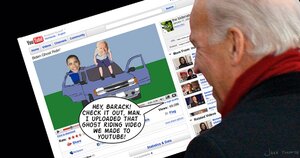 Jacob Turcotte
Hey, do you want more Obama inauguration stuff but already have a hat, ceremonial coin set, commemorative dinner plate, plush velvet mural, bottle opener, bobblehead, chaps, and sockpuppet?
Good news. Now there's a way to get free Obama videos and you don't have to worry about being busted like the guy who leaked the new Guns 'n Roses album.
YouTube
YouTube has announced downloadable videos on their site. That means if you like a video, you can click a button and it's yours to keep.
"La de da," say tech enthusiasts who figured out how to rip copies of YouTube videos eons ago.
A haughty writer over a ITWire.com snips that there are a "zillion ways to download YouTube videos" already.
Important
But for us cavemen, this is kinda cool. Not to mention important says Stanford Law professor Lawrence Lessig.
"YouTube is rolling this out slowly, initially with content that aspires to be consistent with principles of open government," writes Lessig. "I'm told it will be offered more generally. In any case, it is an important development."
Portable
Other tech watchers say the development is a signal that YouTube sees the importance of portability. TechNewsWorld says letting consumers watch videos even when they don't have Internet access is clearly where YouTube is headed.
---