Jill Biden: Joe could have been Secretary of State or VP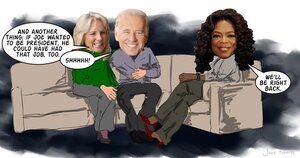 Jake Turcotte
You know all the talk about Vice President Cheney's executive power grab and if the Obama administration is going to roll back some of the new turf?
In fact, the incoming vice president might be expanding the reach. His wife announced yesterday that the whole Biden family is going to be vice president - not just Joe!
Surprise!
The incoming VP and his wife (the one he calls "drop dead gorgeous") made a surprise appearance on the Oprah Winfrey show yesterday and what she said certainly surprised her husband. So much so that he hushed her on the air.
While discussing president-elect Obama's offer to Biden last August to be his No. 2, the VP-elect said he needed some time to think about it. Then his wife clarified.
"Joe had the choice to be Secretary of State or Vice President and I said Joe...", she began.
"Shhhhhhhhh!," hushed her husband.
Pause. Laughter. Applause.
"Well, he did," she said defiantly. More cheers. More laughter.
News
Undoubtedly, the vice president-elect knew his wife just made news. The kind of news that would involve a press release being sent out later in the day.
After Oprah assured the Bidens that everything was all right, Jill continued.
"If you're secretary of state, you'll be away, we'll never see you, you know," she said. "I'll see you at a state dinner once in awhile. But I said, if you are vice president, the entire family, because they worked so hard for the election, they can be involved. They can come to our home. They can go to events, they can be with us all the time. And that's what's important to us."
What she meant was...
---