More change! Joe Biden's house is clear on Google Earth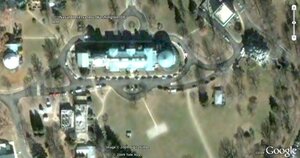 Google Earth screenshot
Undisclosed location no more.
Vice President Joe Biden's home is now open to the public.
No, President Obama didn't reassign him to act as a tour guide on the grounds of the Naval Observatory (where the VP lives) after that ill-received joke last week.
It's just that the image of the home is now viewable on Google Earth (Google's virtual mapping software that allows you to look at cities, buildings, terrain, streets, and even outer space).
Blob
This is a change. Up until now the image of the vice president's residence was blurred. It appeared as a grey blob (kind of like Aretha Franklin's hat).
Then something changed. The view of the VP's house is now clear.
Maybe one of those executive orders that President Obama signed mandated a clearer view of the residence?
Ho-hum
Nope. According to Google, it was just a regular update.
"Google Earth and Maps are regularly updated as new imagery becomes available," Google spokeswoman Kate Hurowitz told Gawker. "Our most recent update, which went live last week, included updated imagery of the Washington D.C. area from several providers. The imagery of the Naval Observatory comes from Digital Globe."
---