Filibuster-proof Senate? Ah, don't worry about it...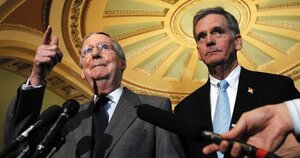 upi/newscom
All the Republican gnashing of teeth over the prospects of New Hampshire Senator Judd Gregg bailing on his colleagues and possibly giving Democrats a filibuster-proof majority?
Not a problem, according to Senate Minority Leader Mitch McConnell.
"The fix is in," to quote Rod Blagojevich (and this is one of the few times we can cite him without saying $@#*!).
Let's make a deal
McConnell told CBS's "Face the Nation" host Bob Schieffer today that the GOP doesn't have to worry about those prospects. Why? Because the Democrats will not be filibuster-proof even if Gregg departs the senate to become President Obama's new Commerce Secretary.
McConnell hinted that a deal could be hatched. Not like a Blagojevich deal though. This one would presumably be above board and made between the New Hampshire Democratic governor and Gregg. In fact, the two politicians have already talked about it.
"Senator Gregg has assured me that if this were to happen ... it would not change the make-up of the Senate," McConnell said. "In other words, whoever is appointed to replace him would caucus with Senate Republicans, so I think it would have no impact on the balance of power in the Senate."
---