Blago compares himself to Christian Bale on Letterman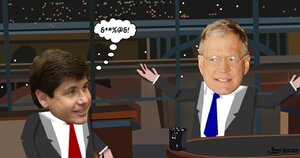 Jake Turcotte
Well the comparison makes a lot of sense.
Details of Rod Blagojevich's appearance on David Letterman are now just trickling in.
The LA Times reports that the ever-talkative ex-governor compared himself to the tantrum-throwing actor Christian Bale on tonight's show.
Welcome to the show
Some of the program is available now on Letterman's web site - like the beginning of the conversation where Letterman asks the ousted governor why he was appearing on the show.
"I've wanted to be on your show in the worst way for the longest time," Blagojevich answered.
The quick-witted host snipped, "Well you're on in the worst way, believe me."
After going through a list of Illinois governors who were convicted of crimes including former Governor George Ryan (who is currently in jail), Letterman asked, "Is this just part of the oath of office that you guys take?"
Blagojevich replied, "When you read it that way, obviously it is a dangerous thing. Had I known that when I ran the first time I wouldn't have run, I would remained congressman," he joked (to no laughter).
"Unlike those people, I will be vindicated. I did nothing wrong," he said straight-faced (but received plenty of laughter).
---