Blagojevich to Letterman: I'm glad you're not on the jury!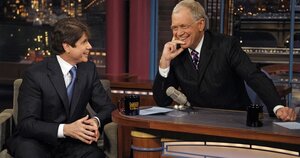 Jeffrey R. Staab/AP/CBS
As MSNBC's David Shuster wittily said last night, former Governor Rod Blagojevich "finally ended his two-day media blackout yesterday" by appearing on programs ranging from the Today Show to Larry King to Greta Van Susteren to David Letterman.
The Letterman appearance was the most anticipated of the group and provided, of course, many laughs. We told you about the program last night (and we have the video below).
Oddly, the Top Ten List was not about Blago. Rather the target was Olympian Michael Phelps. But that didn't mean there was a lack of B-Rod. Letterman had him on three segments.
In the spirit of Letterman's Top Ten, we provide our own Top Ten list of quotes from last night's show.
10. Dave: "You're familiar with the joke: The former Governor is in Illinois Prison, down in wherever it is, the federal penitentiary there in Illinois. And he's working with another inmate and the inmate says to him, 'You know, Governor, the food was better when you were Governor.'" (audience laughs)
---