Daschle's exit a big deal? Talking heads disagree!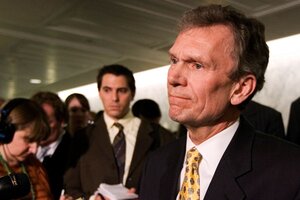 Manuel Balce Ceneta/AP Photo
How big of a deal is Tom Daschle's decision to bow out as the nominee for the head of Health and Human Services? Depends who you ask.
On Monday, President Obama said he "absolutely" stood by Daschle. The next day, however, Obama said of Daschle, "I screwed up."
So it seems like it might depend on when to ask as well.
Differing opinions?
Regardless, with Daschle's departure, along with Nancy Killefer's withdrawal for tax reasons too (she was to be the nation's first chief performance officer), the talking heads were buzzing Tuesday night over the implications.
Shockingly, MSNBC and FOX News see the issue differently.
Hair on fire
MSNBC's Rachel Maddow thinks it's no big deal. She pooh-poohed the issue, asking, "Why is everyone's hair on fire about Tom Daschle?"
"So Tom Daschle had to withdraw as a nominee as well as that other person who was going to be in that job that doesn't exist now," she said referencing Killefer.
"This is obviously the end of the world!" Maddow said, feigning outrage.
She compared yesterday's withdrawals to the early exits of Zoe Baird and Kimba Wood.
Remember those people?
---