Obama takes combo-meal approach to save stimulus bill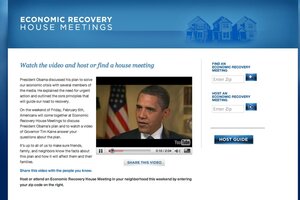 MyBarackObama.com screengrab.
In fast-food language, President Obama ordered a combo meal.
With the hope of seeing some version of the mammoth stimulus package passed by Feb. 16, President Obama took to both the old and the new media to get his message out.
Blago-like tour
First up, the traditional way of communicating: a media blitz even Rod Blagojevich could be proud of. Obama spoke to ABC, CBS, NBC, CNN, and even Fox News to talk directly to the American people.
Apparently there wasn't time for The View or David Letterman.
Obama in ink
Next, an opinion piece in the Washington Post: "The Action Americans Need" ran today.
"Each day we wait to begin the work of turning our economy around, more people lose their jobs, their savings and their homes," the president wrote. "And if nothing is done, this recession might linger for years. Our economy will lose 5 million more jobs. Unemployment will approach double digits. Our nation will sink deeper into a crisis that, at some point, we may not be able to reverse."
---