President Obama's remarks from Ft. Myers, Florida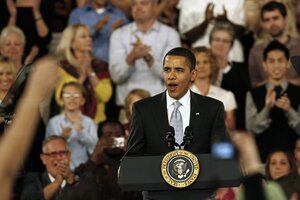 Willie J.Allen Jr./St. Petersburg Times/AP
The following are the remarks of President Barack Obama as provided by the White House.
I want to start by thanking your governor, Charlie Crist, for joining us today. Governors understand our economic crisis as well as anyone; they're on the front lines dealing with it every day. And Governor Crist shares my conviction that creating jobs and turning this economy around is a mission that transcends party. When the town is burning, we don't check party labels. Everyone needs to grab a hose!
Governor Crist and governors across the country understand that. Mayors across the country understand that. And I think you understand that, too. Which is what I want to talk about today.
Last night, I addressed the nation to explain why I believe we need to put the economic recovery plan that is before Congress in motion as soon as possible. But during the day, I spent some time out in Indiana talking to folks. And today, I wanted to come to Florida and visit you all in Fort Myers.
---