McCain announces another run - proves you can campaign forever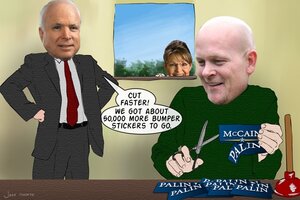 Jake Turcotte
Break out the plungers and get ready to chant, "Drill, baby, drill." John McCain is back.
Proving that one man can campaign for four years non-stop, the Arizona senator is running again.
Re-election
No, he hasn't announced plans for the presidential race in 2012. McCain loves campaigning so much, he's running earlier. 2010. He wants a fifth term in the US Senate.
"Being the Republican nominee for president was one of the great honors of my life and an experience I will never forget. Some have wondered, after my hard fought presidential campaign, if I plan to run for re-election to the United States Senate," McCain wrote in an e-mail announcing his intentions, "I want you to know that I do intend to seek re-election."
Obama
Whether he will ask Joe the Plumber and Sarah Palin to join him in his senatorial run is unknown. Though it's pretty doubtful that Plumber will get a job.
After all, Plumber's busy being a GOP economic advisor. Plus, there's that alleged book he wrote which allegedly doesn't speak kindly of McCain. Plus, he might have his country singing career up and going by then. And what if another war breaks out?
Regardless, McCain's target is still the same: Barack Obama.
---