CNBC's Santelli sparks GOP outrage over Obama mortgage plan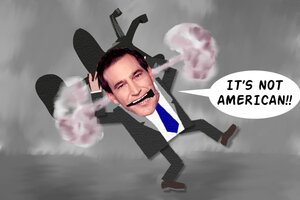 Jake Turcotte
It may seem like grandstanding but a reporter's explosion (or implosion) has galvanized conservative troops to rally against President Obama's mortgage bailout plan.
Despite getting clobbered in the 2008 e-campaign world, Republicans are trying to compete in Internet-land, organizing protests later this week against the bailout.
All the Republican rancor is over the question: Why should the 92 percent of Americans who are paying their mortgages on time subsidize those who can't?
Or more precisely, why is government - specifically President Obama - pushing for this?
Rant
That's the point of a viral video going around the Internet. CNBC's Rick Santelli is the star of the clip and he's the one doing the questioning.
"How many of you people want to pay for your neighbor's mortgage because they can't pay their bills?" he yelled on the floor of the Chicago Board of Trade last Thursday.
Greeted with a chorus of boos, an exasperated Santelli -- arms waving like an over-caffeinated octopus -- said, "President Obama, are you listening?"
We're listening
Maybe the president wasn't, but White House Press Secretary Robert Gibbs was. He called out Santelli by name on Friday and accused the reporter of not reading the plan.
"It's tremendously important … for people who rant on cable television to be responsible and understand what it is they're talking about," Gibbs said. "I feel assured that Mr. Santelli doesn't know what he's talking about."
---