Breaking News: Obamas select First Dog. Markets down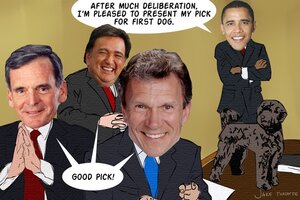 Jake Turcotte
It could be the biggest news of his early presidency.
No, not that speech he gave last night. And not the guy he picked to be his Commerce Secretary (again). And not that Joe Biden forgot the name of the website he's supposed to run.
And the winner is...
The Obamas have selected the First Dog. Well, the breed anyway.
First Lady Michelle tells People magazine they've decided on a Portuguese Water Dog. This breed is known not only for having webbed feet and being a favorite of Jacques Cousteau, but they usually pay their taxes on time and rarely back out at the last minute.
Safe pick
Political pundits -- both Republican and Democrat -- all seem to agree. This selection is no surprise. It talks to the base while not upsetting the moderates. Even the far right could support the choice.
Although Senate approval is not necessary, there's speculation that even South Carolina Senator Jim DeMint would green light the pick.
---