Obamas credit Stevie Wonder for true love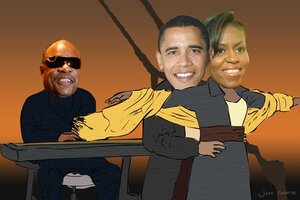 Jake Turcotte / AP photo
It's not the first time someone has credited a popular musician or band for true love.
Just think of all the happy couples out there who say it was the music of Twisted Sister that brought them together.
President Obama did exactly that last night (except the Twisted Sister part). He recognized one singer as being foundational to his relationship with First Lady Michelle.
"I think it's fair to say that had I not been a Stevie Wonder fan, Michelle might not have dated me," Obama said. "We might not have married. The fact that we agreed on Stevie was part of the essence of our courtship."
Gershwin Award
No, the First Couple was not appearing on Dr. Phil to discuss their relationship or anything. The Obamas welcomed Stevie Wonder to the White House to present him with the second annual Gershwin Award for Lifetime Achievement from the US Library of Congress.
What this means for you and me is that we'll be able to watch last night's ceremony punctuated by a Wonder and friends mini-concert tonight on PBS.
---