Breaking news: John McCain's daughter unhappy with dating life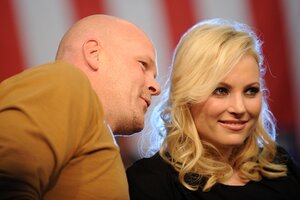 AFP/NEWSCOM/FILE
Things are rough all over.
It's kind of like the movie "Dumb and Dumber" when Harry tells Lloyd, "We've got no food, we've got no jobs, our pets' heads are falling off!"
It's that way for America right now. The Dow is down, foreclosures are up. And the equivalent of heads falling off our pets?
The plight of poor Meghan McCain.
That's right; the daughter of former presidential candidate John McCain is in sad shape. Her dating life is in shambles.
The election
Ms. McCain, a frequent blogger on the Daily Beast, penned a tale of woe yesterday alerting readers that "the election killed my personal life."
It seems that every potential suitor wants to talk to her about the election. Whether they voted for President Obama or Senator McCain, it makes no difference. That's the topic of discussion.
"Once I went out with a guy who said the food I had ordered was a 'maverick choice' and proceeded to tell me, 'Wow, straight talking must run in the family.' It's like someone taking Lisa Marie Presley out on a date and singing "Hound Dog" in the middle of dinner," she wrote.
Now that's funny. But not to her.
Pantsuits and large pearls
Here's another one:
---