The Limbaugh - Steele feud: Rahm's beautiful ballet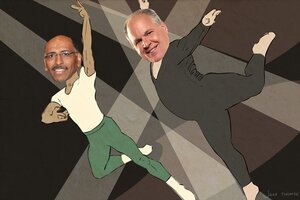 Jake Turcotte
Who wouldn't want to see the Rush Limbaugh – Michael Steele feud portrayed in a ballet?
It's got all the elements. A fiery story of betrayal, vengeance, reconciliation combined with predictable, but beautiful, choreography. All that's missing are the unitards.
Obama chief of staff Rahm Emanuel's choreography is not only prescient but perfectly followed. He outlined the production on "Face the Nation" this past Sunday.
"Whenever a Republican criticizes Limbaugh, they have to run back and apologize to him and say they were misunderstood," Emanuel said, unleashing forces behind the upcoming performance.
Act I - The Violation
Michael Steele disagrees with a CNN host that Rush Limbaugh is the de facto chair of the Republican party, instead claiming he is the boss. But that's not enough. Steele then calls Limbaugh an entertainer and describes his show as "incendiary" and "ugly."
Act II - The Response
Taken aback, the emotional Limbaugh cries, "So I am an entertainer and I have 20 million listeners because of my great song and dance routine."
---