CNBC's Jim Cramer on Obama: greatest wealth destruction ever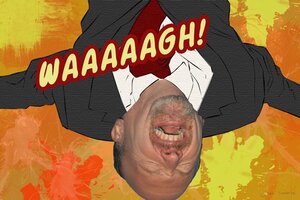 Jake Turcotte/Newscom photo
Tired of the nonstop Rush Limbaugh coverage?
So are we. Thankfully we only talked about him here, here, here, here, and here.
It's time to move on to something meaningful. Like real news.
Substance
How about the new feud between CNBC wildman Jim Cramer and White House Press Secretary Robert Gibbs?
Now it's not nearly as incendiary as the Limbaugh-Steele fight, but it's yet another media personality that Gibbs has gone after.
Obama fan
Cramer, a former supporter of Obama, criticized the president yesterday on the Today Show, saying that his budget has "basically put a level of fear in this country that I have not seen ever in my life."
"This is the most, greatest wealth destruction I've seen by a president," he added.
Conserva-fever
---