Lieberman loves Obama - disregard everything he said in 2008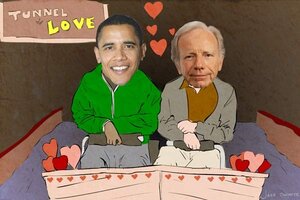 Jake Turcotte
We all change our minds. You say one thing, you give it some thought, and after awhile you could have a different opinion.
For example, if you could ask him, maybe the Grizzly Man would say, in retrospect, that 950 pound bears really aren't that friendly.
Same goes for Connecticut Senator Joe Lieberman. He's had a change of thought. But luckily for Joe, he hasn't been eaten.
Although there are plenty who are calling for it.
What I meant was...
Lieberman has done a 180 on Barack Obama.
You remember during the campaign, Lieberman was palling around with John McCain, and the Connecticut senator did what you do on campaigns. You take a swipe at the other guy.
Like when Lieberman compared the two candidates. He said the choice was between "one candidate, John McCain who always put the country first, worked across party lines to get things done, and one candidate who has not."
That rankled a lot of people on the left.
But he's seeing things differently now. An epiphany perhaps.
"He's shown real leadership," Lieberman told The Associated Press. "Bottom line: I think Barack Obama, President of the United States, is off to a very good start."
As for his disparaging comments?
"We were in the middle of a campaign and we just plain disagreed ... When I said those things not only did I believe them, but I believe looking at the records of the two people then, they were right," Lieberman said.
Re-elect
---