Jim Cramer must be getting PR advice from Roland Burris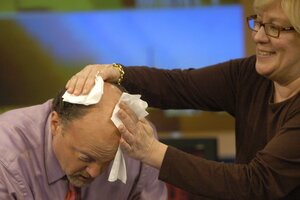 KRTPHOTOS/NEWSCOM/FILE
If it was a heavyweight fight, there would be calls for an investigation.
Fans would say the fight was rigged. "He took a dive!"
That's what it felt like last night watching Jon Stewart's dismantling of CNBC's Jim Cramer.
Sunk
Pre-game hype aside, it was no Clash of the Titans. Of the two, Stewart was the Titan. Cramer, the Titanic. Actually the Titanic fared better. There were survivors.
Where was the guy who mocked Stewart days before?
"Oh, oh, a comedian is attacking me! Wow! He runs a variety show!" That was Cramer earlier in the week when asked to respond to Stewart's criticism.
Last night?
There was, "I should do a better job" and "I wish I'd done a better job" and "I'm trying. I'm trying."
No fight
Any machisimo he displayed earlier in the day quickly wilted.
On Martha Stewart's program hours earlier he said of his upcoming appearance, "I'm going to have to fight back. I'm not a doormat."
Right. And Rush Limbaugh isn't the de facto leader of the Republican party.
PR strategy
The Motley Fool wonders, "What on Earth was Jim Cramer doing last night?'
No kidding. Who's Cramer's publicist? Roland Burris?
---