Obama to appear on Leno - will he bring a teleprompter?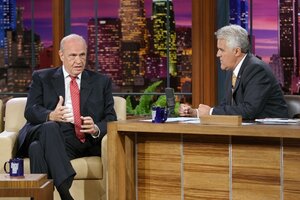 PAUL DRINKWATER/REUTERS
The news that President Obama will appear on Jay Leno's show Thursday night could be told in a couple ways depending on what type of site you're on.
More right-leaning: Faced with plummeting polls and Boston Tea Party-like rebellions popping up all over the country, President Barack Obama is attempting to save his faltering presidency by going to the last place that still accepts him: Hollywood.
More left-leaning: With rock solid poll numbers (higher than Reagan at this point in the presidency), President Barack Obama has the courage to leave the Washington echo chamber and talk to the common man.
History
Whatever the spin, Obama's appearance on the program is history-making.
This will mark the first time a president will sit in a chair next to country singer Garth Brooks in California on a Thursday. (Brooks is the musical act).
NBC also points out that it's the first time a sitting president has appeared on one of the late night talk shows.
Funny
Everyone wants to know: Will Obama be funny?
A White House spokesman, who didn't want to be identified because the information he was sharing was so sensitive, told the Vote, "As funny as the times allow."
See? Perfect out. If Obama O-bombs, it wasn't appropriate to be funny. If he brings down the house, we've got a leader who in great times of crisis can still make America feel good.
Jokes
With apologies to non-sports fans, perhaps he could try out this hilarious joke, which appeared in the Denver Post his morning:
---