March Madness: Obama picks McCain's team to lose in first round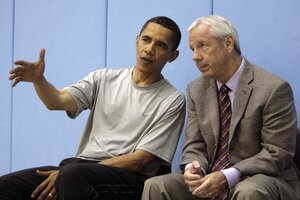 JAE C. HONG/AP/FILE
There are times when you have to put partisan politics aside for the good of the country. And this is one those times.
Although woefully wrong in selecting Memphis to topple UConn in the Western regional, President Obama deserves a standing O-vation for participating in March Madness.
You know, getting in the office pool. Picking who you think will go all the way to the Final Four in the NCAA Men's Basketball Tournament. It's an American tradition. Possibly the finest.
Good TV
Following through on a campaign promise to give ESPN the exclusive look at his brackets if elected, the President invited Andy Katz from the sports network into the Map Room of the White House to unveil his selections.
It's smart. He's got a high enough approval rating where the American public will let him get away with it.
Although there will be screams of "Focus on the economy!" and "Get our money back from AIG!", and "Charles Grassley is right!" it's OK to do this now. If his approval rating dips below 50 (it always fluctuates), it would be far riskier to pull off.
Case in point: BarneyCam in 2003 versus BarneyCam in 2008.
His picks
He went all chalk!
That's what some sports enthusiasts are yelling today after looking at the president's picks.
---
Follow Stories Like This
Get the Monitor stories you care about delivered to your inbox.