New poll spells doom for Obama? Nah, not really...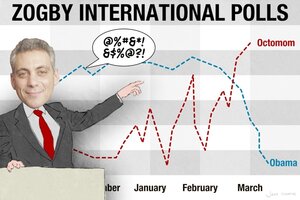 Jake Turcotte
"Put on your Sunday best kids, we're going to Sears."
Those were the words of Mike Brady to all the Brady bunch when they set out to celebrate. Perhaps that's what some Republicans are doing this morning with word of a new poll showing President Obama's number slipping -- dramatically.
The Boston Herald, reports that a Zogby poll shows President Obama with only a 50 percent approval rating.
"The honeymoon is over, a national poll will signal today as President Obama's job approval stumbles to about 50 percent over the lack of improvement with the crippled economy."
Doom
That means doom and despair for the president, right? And for the terrifying news to come up on the day he addresses the nation. Perhaps he's going to have to roll out the teleprompter after all.
Nah, not really.
Why? Four words: It's a Zogby poll.
Wrong
Nothing against Zogby polls. But as Comedy Central wrote last year (and you can quote Comedy Central if they're right), "Zogby polls are always wrong."
The left and the right will tell you the same thing.
Right
---