Obama ditches teleprompter for drive-in theater movie screen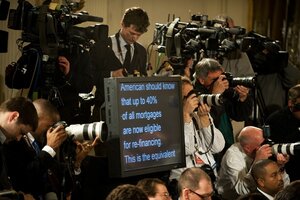 PAUL J RICHARDS/AFP/NEWSCOM
Leave it to FOX News to lead their coverage this evening with details on the new teleprompter President Obama used during his opening comments.
Actually it was just a monstrously large TV screen. Some are speculating that it resembled a drive-in theater movie screen.
Before recapping what the president said this evening, FOX anchor Brett Baier showed a photo of the gigantic TV screen the president used to kick off the press conference. (video below).
Jokes
And during the president's prime time address, jokes about the teleprompter flourished on Twitter.
On President Obama's testy response to CNN's Ed Henry regarding the president's delay in expressing outrage over the AIG bonuses, PhonemanA had a different answer than the president.
"HA! It took a couple days for Obama to respond 'cause they had to get all his lines on the teleprompter! LMAO!!" he writes.
Squipplemunksh just couldn't quit laughing. "LOL LOL Obama reads a teleprompter like Ron Burgundy."
---