Live blogging Blago's radio show on Chicago's WLS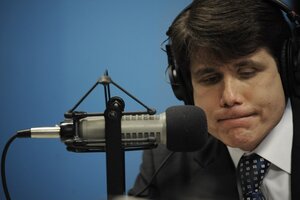 Ex-governor Rod Blagojevich is hosting the "Don Wade & Roma Morning Show," on WLS in Chicago. We're attempting to live blog it.
The former governor is a natural radio host. Completely comfortable in front of the microphone. Promoting the weather and traffic like a pro.
Elvis
Playing Elvis's "A Little Less Conversation" to kick off his show. Blago says, "Good morning, this is former governor Rod Blagojevich. How are you? This is a time for more conversation and a little less action."
"It seemed like it was just yesterday that I was the governor of the 5th largest state in America," he began. "And now I'm here filling in the seat of Don Wade -- you can say I've achieved higher office."
Guests
8:12am -- Blago announces his guests on the morning's program. They include the reporter who appeared flummoxed last night when President Obama called on her -- ABC's Anne Compton.
DL Hughley, the comedian is also on the show. Remember he's got that CNN program which is getting canceled later this month. He got a lot of newsplay when he had GOP chief Michael Steele on the show. Remember? Steele said Limbaugh was incendiary and ugly and that he was not the de facto leader of the GOP and BOOM.
---