Politicians using Twitter: Morons or visionaries?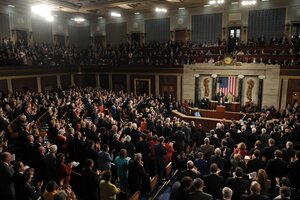 AFP/NEWSCOM
Political analyst Charlie Cook isn't a fan of Twitter. Or at least politicians' use of the social messaging tool.
Cook opined a couple days ago that he has "yet to hear a single intelligent remark twittered by an elected official."
Maybe that's because you're bound by the medium. You're only only allowed 140 characters each time you "tweet".
No matter to Cook.
"The vacuous utterances Twittered daily from members of Congress make me wonder how they have the time to spend keying in on such banalities and marveling over the narcissism implicit in their belief that anyone cares about their every single thought and reaction to contemporaneous events," he writes.
Vacuous utterances? Congress? No! Come on.
We likey
We here at the Vote Blog have become big fans of Twitter because it provides a real time snapshot of what people are talking about.
For example, when President Obama had that testy exchange with CNN's Ed Henry, we included comments from the Twitterverse. Like, "Daaaamn CNN's Ed Henry got roasted!"
---