Protesters turn Lawrence Summers' economy lunch into Jerry Springer show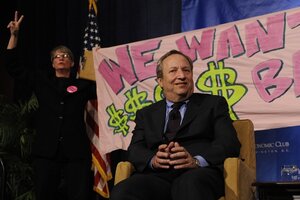 NEWSCOM
All that was missing were the mullets...
It had the trappings of a Jerry Springer show. First you had the moderator asking the guest a question. Then you had an opposing party rush the stage screaming. Then you had security people separate the two.
It's just that you wouldn't have expected this at a luncheon meeting of the Economic Club of Washington, D.C., with Lawrence Summers, President Obama's director of the National Economic Council.
No, the Economic Club didn't change its format in hopes of higher ratings or anything. It was unexpected. Protesters showed up and attempted to ruin the event.
Good news
Summers was the Club's guest today and before the melee broke out, he spoke of good news for the economy telling the crowd that the economic "free-fall" could be ending.
"There has been a substantial anecdotal flow over the last six to eight weeks of things that felt a little bit better," he said. "The sense of a ball falling off a table, which is what the economy has felt like since the middle of last fall ... we can be reasonably confident that that is going to end within the next few months and we will no longer have that sense of a free-fall."
Time
---