Obama's Easter egg roll -- the most exciting one ever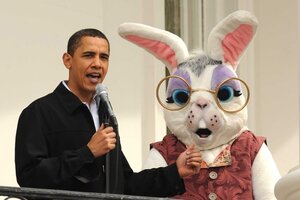 NEWSCOM
Nothing gets kids more excited than putting a hard boiled egg on the ground and rolling it with a spoon. Olympic exhibition sport 2012? Likely.
The annual White House Easter egg roll is back and, just like Bruce Willis, with a vengeance.
The egg roll, the largest event held on the White House grounds, kicked off this morning on the South Lawn. Sadly, other games dating from the late 1800s are no longer continued -- like "egg ball," "egg picking," and egg croquet." (All of these games were played way back when.)
Welcome
Despite the absence of these events, President Obama seemed upbeat when welcoming the crowd to his first ever egg roll.
"This is one of the greatest White House traditions because it reminds us that this is the people's house," he said. "And to see so many children out here having a great time just fills Michelle and myself and the entire family with a whole lot of joy."
A whole lot of activities for the kids too -- like yoga, dancing, story telling, Easter egg decorating, basketball, and soccer, the first lady announced. That suited everyone fine but one attendee.
Sasha Obama, standing with her mother the first lady, wasn't satisfied with those. So she audibly offered tennis as an option.
"We don't have tennis; it's on the tennis court," Michelle Obama said to Sasha (and the entire crowd).
"The peanut gallery back there," she laughed.
What he did?
---