Hey, it's the Rod Blagojevich reality TV show - live from a jungle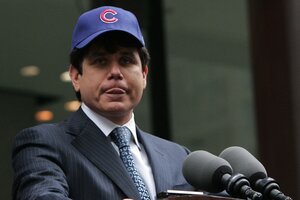 NEWSCOM/FILE
Would there be a better TV show than plopping Rod Blagojevich in the middle of a jungle and watching him try to find his way out?
Nope.
And if a federal judge gives the impeached ex-governor of Illinois the go-ahead, we'll get to see it. Bizarre? Yes. A possibility? Maybe.
New show
We originally told you about this last night. NBC is interested in having Blagojevich appear on the new reality TV show ""I'm a Celebrity … Get Me Out of Here!"
The premise is simple. NBC explains: "Ten celebrities of various backgrounds will be dropped into the heart of the Costa Rican jungle to face challenges designed to test their skills in adapting to the wilderness and to raise money for their favorite charities. Rod Blagojevich will be a participant on the show pending the court's approval."
He needs the court's OK because he's facing 16 federal charges which could put him behind bars for 300 years. Yesterday, he asked the judge if he could travel, although he didn't mention the jungle TV show.
Reports are that he could make up to $80,000 per episode and this would help fund his legal team. A judge has not yet ruled on the request.
Reviews
Although it could be hilarious television, early reviews are nearly all bad.
Danny Gallagher at TV Squad hopes the judge says no. "I'm the farthest thing from a legal expert. In fact, I think I'm ranked just behind Judge Wapner's dog, Skippy. But why should Blagojevich get special treatment, even if the money is going towards his legal defense?" he asks.
---